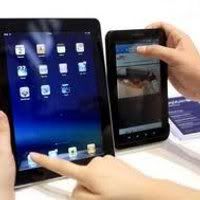 Use the keywords from the title with hashtags and track their discussion on Twitter and you might be able to measure what's being discussed in the media and entertainment industry this week.  In Las Vegas the topics are ongoing conversations.  Just check out the NAB Show Daily Report.  Ninety-thousand attendees reported and 1600 exhibitors. 
Still the discussion of social media is a small part the largest annual show for broadcasters.  Cory Bergman from Lost Remote wrote a wrap-up of how broadcast manufacturers are fulfilling the disruption in the industry.  The theme of the NAB convention is "The Great Content Shift."  There is clearly recognition of the rumblings in what association executives are calling a transformative year for convention activities.
Susan Ashworth, from TV Technology, writes for the NAB Show Daily Report "those in the business of creating, managing and distributing content must look less at specific channels of distribution and more at every platform opportunity."  She also wrote the daily report's article on the second screen and the impact of smart and mobile devices on media and entertainment.  Ashworth quotes NAB execs liberally in her reports and Dennis Wharton, NAB executive vice president of communications is one.  "It's all about taking the opportunity to monetize our content on as many platforms as possible," he said.
Media and technology lawyers are echoing the topics.  "People have to think about looking at their business as a content business and a delivery business, and look at the way that they can profit from each one," said Peter Tannenwald, member of the law firm Fletcher, Heald & Hildreth.  As Lost Remote's Bergman describes it's like almost 20-years ago when convention discussions were concerned with the Internet.  Now it's social media.
In the report on second screens Roger Keating, senior vice president of digital media at Hearst gets quoted. 
"People enjoy our programming from within the confines of their home; we can't see their reactions.
 But if harnessed properly, social media can change all that.  It turns every episode, every newscast into a live focus group.  We'll know instantly the pulse of the show, the overriding sentiment; what parts draw most heat.  And that'll make us better programmers."
Jonathan Weitz, partner with analyst firm IBB Consulting, in the same report adds "We are also seeing networks and broadcasters working to grow their social media practices across the organization in areas like research, marketing, distribution and product development."
Maybe it will be a conversation among broadcasters on Linkedin and comments online that will continue to drive the discussion about the great content shift in media and entertainment.  Let me fuel the dialogue with another lexeme.  Transmedia is usually paired with storytelling to explain presentation of content across platforms.  However, I'm told it's morphed into an alias for "multiplatform distribution of media."
James Rowe